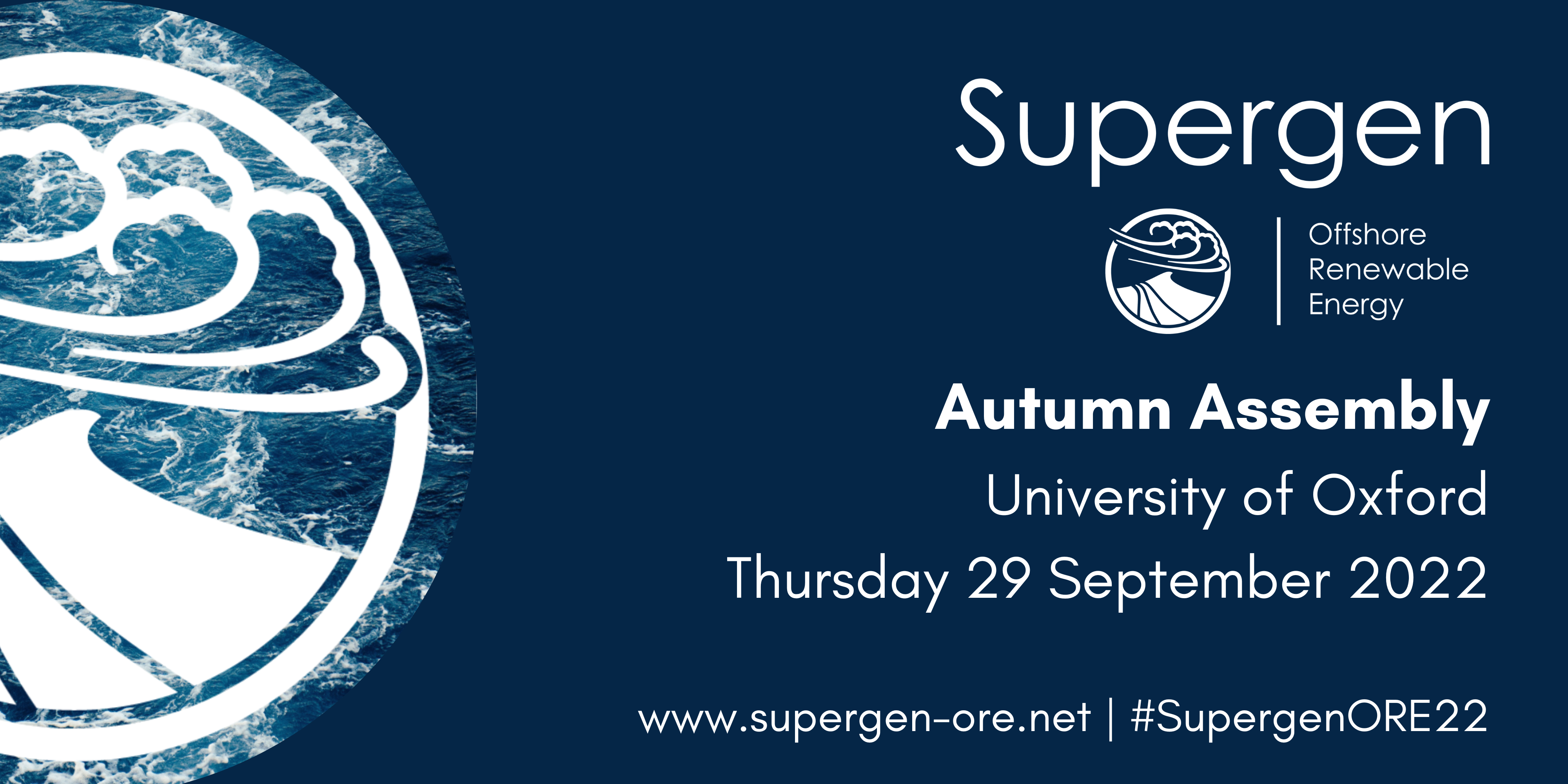 Supergen ORE Hub Autumn Assembly - Offshore Renewable Energy: Towards 2030 and beyond for Net Zero

28th (evening drink reception) and 29th September 2022
Venue: In person at the University of Oxford, Bernard Sunley Building, St Catherine's College, Manor Road, Oxford, Oxfordshire, OX1 3UJ
About the Autumn Assembly
The Supergen Offshore Renewable Energy (ORE) Hub organise an Annual Assembly to give an opportunity to those working in the offshore wind, wave and tidal energy sectors the chance to explore and debate cutting-edge research, find out about the latest opportunities and challenges in offshore renewable energy technologies, and network with the offshore renewable community, including academics, industry professionals and policymakers.
Due to the COVID-19 pandemic, our Annual Assemblies in January 2021 and 2022 were held virtually. In 2022 we're organising an additional Assembly to give people the opportunity to come together to meet and network in person. This Autumn Assembly will be held in person at the University of Oxford. This assembly will be in person only, although recorded materials will be available after the Assembly through these web pages.
Discounted accommodation at the University of Oxford
We have secured a number of rooms at a discounted rate at St Catherine's College in Oxford for around £103 per night (which includes breakfast). These rooms are available on a first-come, first-served basis.
To book discounted accommodation, please use the booking link here.
The event code should be automatically filled. If not, please ensure you input the code: ORE2022. These rooms are an en-suite study bedroom with their own shower room. The room is serviced every day and comes with linen, towels, tea and coffee making facilities as well as toiletries. The rooms are located next to the Assembly venue, and are a 20-25 minute walk from the main Oxford Train Station.
Other accommodation options
There are also other options for accommodation in Oxford including self-catering apartments, guest houses, hotels and hostels. Visit the Oxford Visitor Information website to find out more.
Assembly Programme and Themes
This 2022 Autumn Assembly will showcase and celebrate ORE research, and will be a chance to review and update our Research Landscape as well as plan for future activities to support ORE towards 2030 and beyond.
The Assembly will address the following themes through presentations and panel sessions:
A showcase session for our Flexible Funded projects and Early Career Researcher projects
Engaging the public with the transition to net zero and sustainability through increased use of offshore renewable energy
Growing and sustaining the workforce of people needed to deliver net zero, and ensuring that equality, diversity and inclusion is a core element of the journey to 2030 and beyond
Accelerating learning and sharing of best practices in offshore renewable energy through international collaboration
Policy changes that are needed to enable targets for 2030 and beyond, to be achieved within the context of offshore renewable energy
The role of the Supergen ORE Hub in providing research leadership for offshore renewable energy to achieve targets for 2030, 2050 and beyond
A detailed programme will be released soon. Limited places will be available.
This event is hosted by St Catherine's College, University of Oxford
_________________________________________________________________________________________________________________________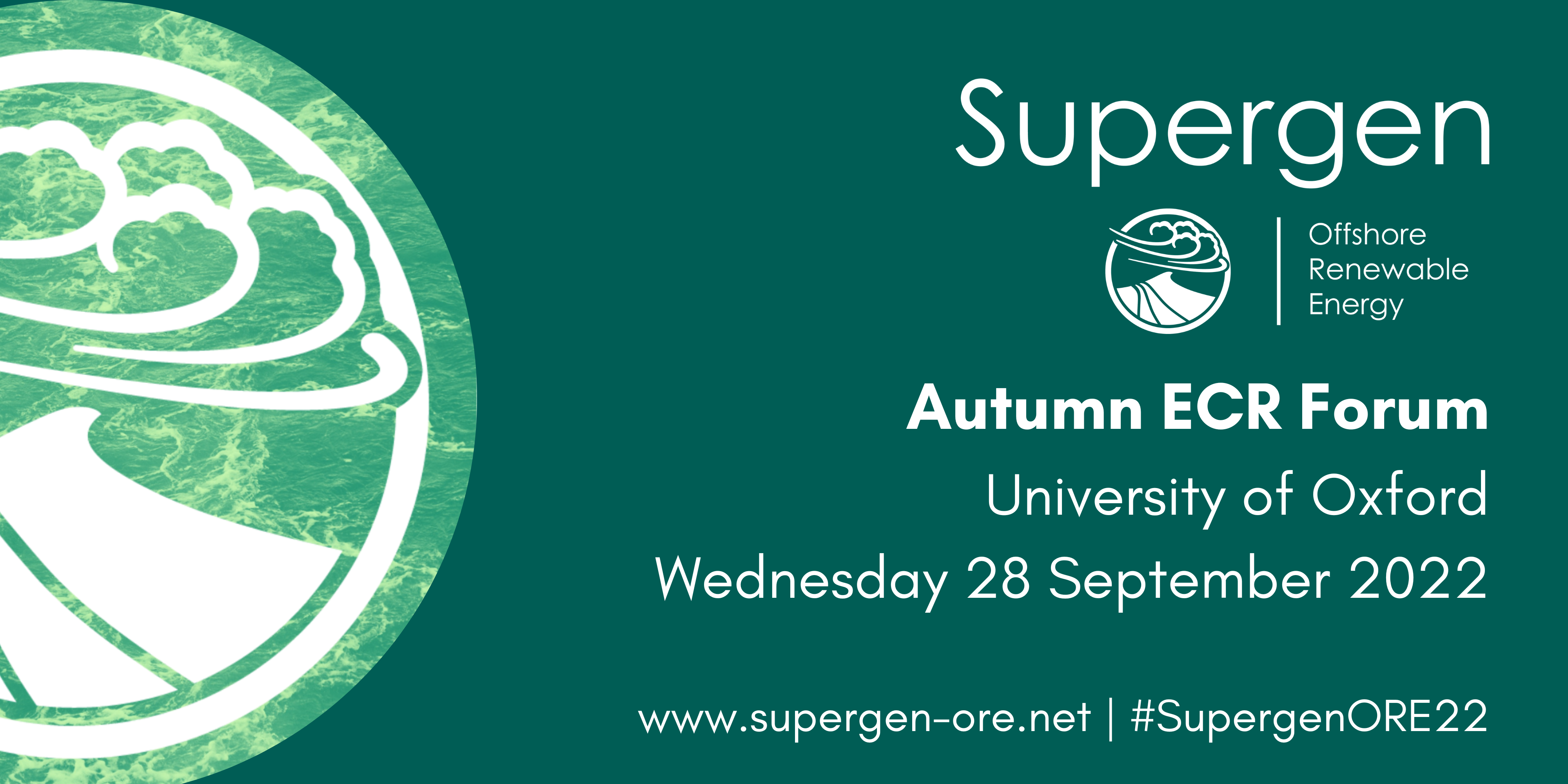 Supergen ORE Hub Autumn Early Career Researchers Forum 2022
Wednesday 28 September 2022, 09:00 – 17:00
Venue: In person at the University of Oxford, Bernard Sunley Building, St Catherine's College, Manor Road, Oxford, Oxfordshire, OX1 3UJ
Please note, separate registration is required if you wish to attend the main Assembly day, taking place on Thursday 29 September 2022. Register here
About the ECR Forum
The Supergen Offshore Renewable Energy (ORE) Hub welcomes members from our Early Career Researcher (ECR) Community to join us in person at the University of Oxford for our fifth ECR Forum, taking place on Wednesday 28 September 2022 in Oxford.
The ECR Community aims to connect ECRs with more senior researchers, in the UK and internationally, to create a diverse and supportive community that nurtures the next generation of ORE research leaders. The ECR Forum is a way for ECRs to come together and share their research and network with colleagues.
ECR Forum Programme
Previous Forums have included presentations from ECR Funding winners, keynote talks from industry, workshop sessions on funding applications and fellowships, and discussions around career development and progression.
A detailed programme for the Autumn ECR Forum will be released soon. Limited places will be available.
Who can attend?
This Forum is open to all ECRs who are researching/have an interest in offshore renewable energy. We define an ECR as: Post Doctoral Researcher Assistants (PDRAs), early career Academic Staff within the first three years of their academic appointment, and PhD Students within 12 months of completion who are exploring a future career in the ORE sector.
Autumn Assembly Registration
The ECR Forum will take place as part of our Autumn Assembly (which is taking place on Thursday 29 September 2022). Please note, separate registration is required if you wish to attend the main Assembly day. Find out more and register here.
Call for Poster Submissions
As a member of the ECR Community, you will also have the opportunity to display a poster throughout the ECR Forum and Assembly, with a dedicated poster and networking sessions.
We strongly encourage all ECRs to submit a poster presentation. Submitting and displaying a poster allows you to:
Engage with other conference attendees interested in the same subject which could lead to future collaborations
Promotes your research to senior researchers, industry professionals and policy makers
Allows for insightful, impartial discussion of your work by peers which can often provide future ideas
Offers the opportunity for you to practice your presentation skills and verbal communication, and allows for more in depth and informal conversations
The Supergen ORE Hub will award prizes for first, second and third place posters. These will be announced in the closing session during the Assembly on 29 September.
We will be in contact with all registered delegates with further information about poster submissions soon.
This event is hosted by St Catherine's College, University of Oxford.