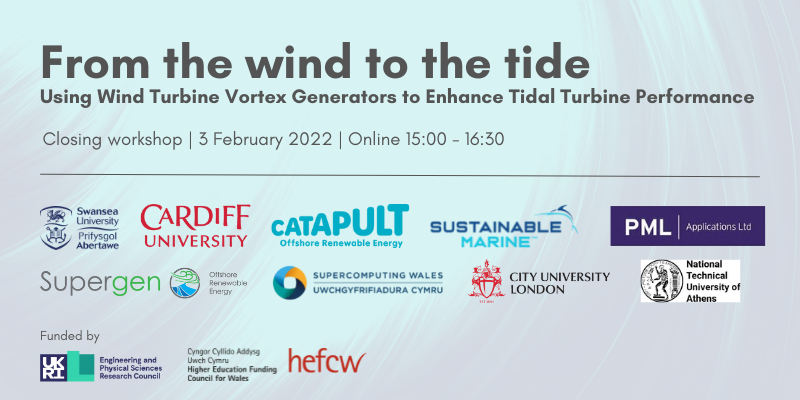 From the Wind to the Tide: Using Wind Turbine Vortex Generators to Enhance Tidal Turbine Performance

This event was the closing workshop of the 'From the Wind to the Tide' project, held between 15.00 and 16.30 GMT on Thursday 3 February via online format.

The project investigated the use of Vortex Generators as a flow control device on tidal turbine blades, inspired by their application on Offshore Wind Turbines. State-of-the-art wind tunnel tests and high-fidelity numerical simulations were the tools used in the successful completion of the investigation. A spin-out project, dealing with the effect of biofouling on tidal turbine blades will also be presented.
The main project was funded by the EPSRC Impact Acceleration Account and the research consortium consisted of Swansea University, Cardiff University, Sustainable Marine, and the Offshore Renewable Energy Catapult with the Supergen ORE Hub providing communication support. Computational resources were provided by Supercomputing Wales. The spin-out project was funded by the Higher Education Funding Council for Wales and the partners were Swansea university, Sustainable Marine and PML Applications.

Workshop presentations
From The Wind to the tide project overview
Dr Marinos Manolesos, Reader in Aerospace Engineering (City, University of London / Swansea University)
View presentation slides in PDF
Modelling tidal turbine biofouling effects in a Wind Tunnel
Ms Lowri Chng, Graduate Engineer in Offshore Wind (Ramboll)
View presentation slides in PDF
Assessing the effect of intentional and unintentional blade add-ons on tidal turbine performance
Dr.-Ing. Nicholas Kaufmann, Tidal Turbine Engineer (Sustainable Marine)
View presentation slides in PDF
Designing tidal turbine arrays using large-eddy simulation
Dr Pablo Ouro Barba, Dame Kathleen Ollerenshaw Fellow (University of Manchester / Cardiff University)
View presentation slides in PDF
Using CFD for marine engineering applications
Dr George Papadakis, Assistant Professor (National Technical University of Athens)
View presentation slides in PDF