To help fill any rainy days during the half-term break, we've created an activity for young people that explores the clean energy solutions provided by offshore renewables and encourages optimism about a fossil fuel-free future.
Our book - Gaia's Energy Adventure - is about a young girl who is worried about climate change and is taken on a voyage of discovery, learning how we can make clean energy from the wind and oceans to build a better, brighter future.
To help share this story and inspire young people about the exciting opportunities that clean energy solutions provide, we're encouraging children and young people to take part in our competition.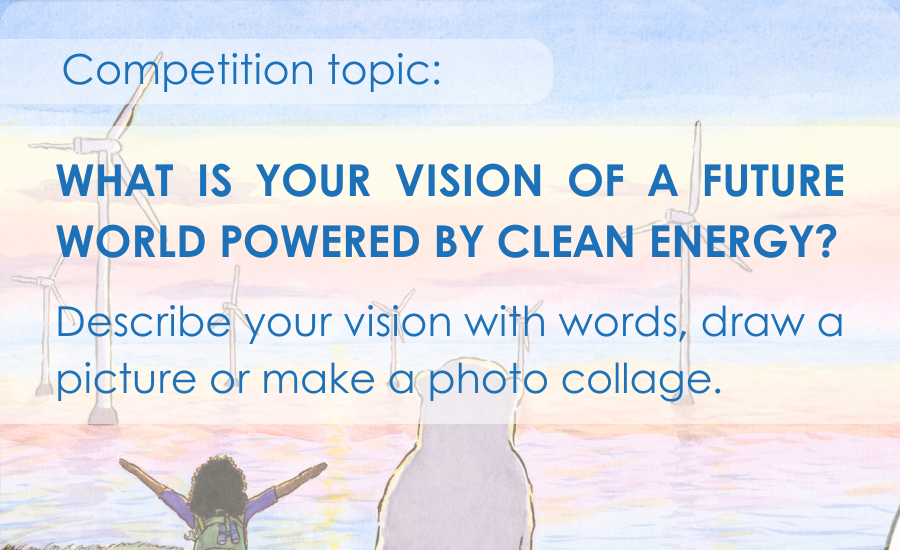 Inspire and learn
We've gathered links to a selection of free online resources so you can sit with your young person and learn about the awe-inspiring technologies that harness the power of the wind and the sea. See the links below. These resources may also inspire an entry to our competition!
Competition topic - create your vision of a future world powered by clean energy.
Describe your vision with words, draw a picture or make a photo collage.
To enter
Enter by sending a copy of your work to supergenorehub@plymouth.ac.uk or by tagging @SupergenOREHub in a Tweet or @Supergen ORE Hub in a LinkedIn post. Entries must be made on behalf of the entrant by someone over 18 years of age.
Closing date – 30 October 2023.
Open to under-18s, UK residents.
A prize for the winner
The Supergen ORE Hub team will pick the most inspirational and original entry and award a copy of our book Gaia's Energy Adventure and a £25 voucher for the online toyshop The STEM Club!

Free, online resources (third-party websites)
The Supergen Offshore Renewable Energy Hub is a project funded by the UK government which aims to drive forward research for wind, wave and tidal energy technologies. There are many renewable energy solutions, such as solar and biomass that will contribute to our future energy mix, but the below resources tend to focus on our specialist subjects - wind, wave and tidal energy:
Explore artwork designed by other young people as part of the Net Zero Visions project.
Watch Interesting Engineer's video about Costa Rica's ambitious renewable energy goals.
Listen to a reading of Gaia's Energy Adventure.
Watch Exeter Science Centre's visit to a wave tank and learn about marine energy from the engineers who work there (key stage 4, age 14-16)
Watch a BBC Bitesize video to find out where wind energy comes from.
Watch a TED-Ed introduction to renewable power.
Watch a World Economic Forum video about Sweden's plans to be entirely powered by renewable energy by 2040.
Watch a BBC Bitesize video to learn about wave energy and the different designs of wave energy converters.
Listen to Engineer Academy explore wind farms.
Watch a BBC Bitesize video to learn about tidal energy.
Explore a FunKids Wave Energy fact file.
Listen to a FunKids discussion about the energy dilemma.
All external links provided are correct at the time of publication. We exclude all liability for loss incurred when using these third-party websites.