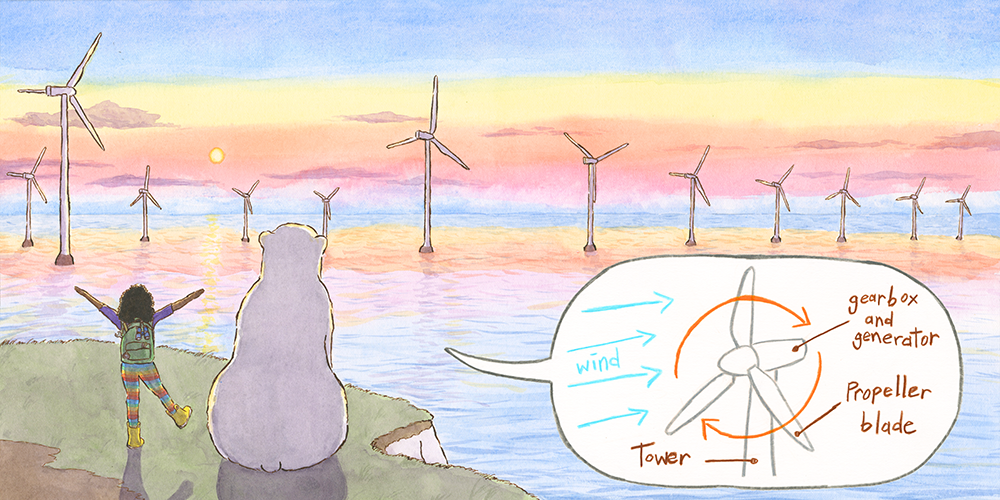 A new children's adventure book in offshore renewable energy (ORE) has been launched by the Supergen ORE Hub as part of their COP26 activities.
The Supergen ORE Hub is an Engineering and Physical Sciences Research Council (EPSRC) funded project which provides research leadership to connect academia, industry, policymakers and the public, inspire innovation and maximise societal value in offshore renewable energy.
The book aims to communicate the often complex subject of offshore wind, wave and tidal energy to 4-6 year olds and those reading with them, as well as encouraging girls and those from other underrepresented groups to consider a career in engineering.
The book has been developed as a response to an equality, diversity and inclusion scoping study, which reported that gender beliefs and stereotypes are often embedded at an early age, and by the time children reach primary school (aged 4-5 years), they often have a firm idea of their place in the world - making this an important stage to tackle diversity issues.
The study also reports that books are important in the formation of how children see themselves in the world. Generally speaking, an overwhelming majority of main characters in books written for young people are portrayed as male and white. This becomes more of a direct issue when portrayals of STEM (science, technology, engineering and mathematics) job roles have an almost complete bias towards this overrepresented group.
The book - Gaia's Energy Adventure! - aims to break this barrier through portraying the main character as a young girl of ethnic minority origin, who explores the engineering and environmental aspects of offshore renewable energy, and learns how these technologies can play a vital role in ensuring a clean and sustainable energy mix for the future.
As part of our equality, diversity, inclusion and outreach work in the Supergen ORE Hub, we are thrilled to be able to launch our new children's adventure book "Gaia's Energy Adventure!". Tackling embedded gender beliefs and stereotypes in engineering and STEM subjects is particularly important in challenging diversity issues, especially from a young age. This book looks to address some of these issues and communicate to a young audience the role of offshore renewable energy in our efforts to tackle climate change.
EPSRC embed equality, diversity and inclusion in all that we do, ensuring that the activities we support and the research that we fund drives change in our community, and supports a system that is inclusive for everyone. We are delighted to see the Supergen ORE Hub produce this children's book which supports this important part of our work, whilst also sharing engineering research in offshore renewable technologies.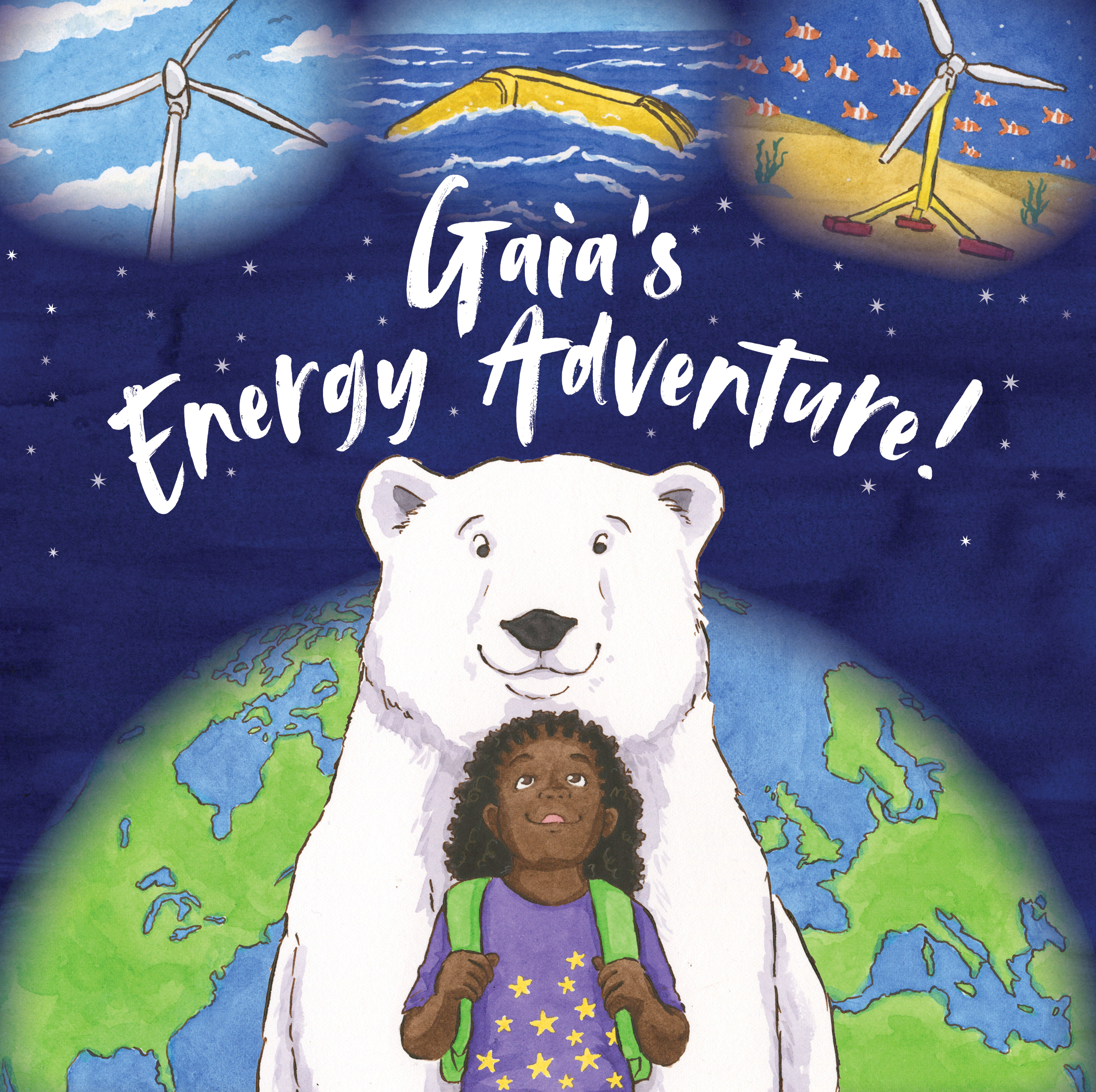 The book is authored by Kate Marvelyan, illustrated by Lucy Pulleyblank, designed by Liz Baldin and edited and project managed by Donna Wood. It has been published by the University of Plymouth Press.
You can find out more about Gaia's Energy Adventure by visiting the Supergen ORE Hub in the COP26 Green Zone today (1 November 2021) on the COP26 Universities Network exhibition stand from 15:00 – 16:00 on the first floor of the Glasgow Science Centre.
If you're a library, school, nursery or community group and are interested in hosting a reading session or event based on the book, please contact supergenorehub@plymouth.ac.uk.
Gaia's Energy Adventure! is available for £5.99 via the University of Plymouth online store. To register your interest in an eBook version when available, please contact supergenorehub@plymouth.ac.uk.
For more information about this news release, contact the Supergen ORE Hub Communications and Engagement Officer, Kirsty Henderson, on kirsty.henderson@plymouth.ac.uk.
The Supergen ORE Hub
The Hub is a £9 Million Engineering and Physical Sciences Research Council (EPSRC) funded project. Led by Prof. Deborah Greaves OBE, Head of School of Engineering, Computing and Mathematics at the University of Plymouth, the Hub is a consortium of Universities researching Offshore Renewable Energy which also includes University of Aberdeen, University of Edinburgh, University of Exeter, University of Hull, University of Manchester, University of Oxford, University of Southampton, University of Strathclyde and University of Warwick.
The Supergen ORE Hub is one of several Hubs created by EPSRC to deliver sustained and coordinated research on Sustainable PowER GENeration and supply.
The Supergen ORE Hub brings together and builds on the work of the former Wind and Marine Supergen Hubs following consultation with the research community. The new hub looks for synergies between wind, wave and tidal technologies as well as building on current research in each area. Find out more at www.supergen-ore.net