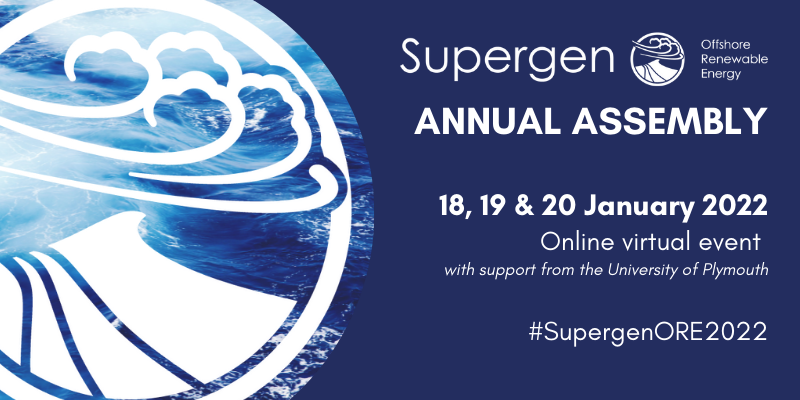 Supergen ORE Hub Annual Assembly: Exploring the role of Offshore Renewable Energy research and development on the pathway to net zero – The road leading from COP26
The Fourth Supergen Offshore Renewable Energy (ORE) Hub Annual Assembly was a three-day conference held online from Tuesday 18 – Thursday 20 January 2022.
With the upscaling of the UK Government's ambitious targets to increase significantly the deployed capacity of offshore renewables within the next decade, including increasing the deployment of offshore wind from 30GW to 40GW, delivering 1GW of floating offshore wind by 2030, a newly announced £20m de Minimis of ring-fencing for tidal stream development and supporting up to double the capacity of renewable energy in the next Contracts for Difference auction, the need for increased research and innovation within Offshore Renewable Energy has never been more pressing.
Aligned with the outcomes of COP26, including a commitment by 40 world leaders to increase the uptake of clean technologies within five high-carbon sectors, including electricity, by imposing worldwide standards and policies, offshore renewable energy research and development will play a vital role in mitigating climate change. Our fourth Annual Assembly gave those working in the offshore wind, wave and tidal energy sectors the chance to explore and debate cutting-edge research, find out about the latest opportunities and challenges in offshore renewable energy technologies, and network with the offshore renewable community, including academics, industry professionals and policymakers.
This Annual Assembly welcomed 370 delegates and 85 speakers and panel members presenting in 12 sessions, including:
6 'Tackling the Research Challenges' sessions, where Supergen ORE Hub Co-Directors and Flexible Funding award winners shared updates on projects, based on themes from our Research Landscape. These sessions were accompanied by longer pre-recorded videos giving delegates a deeper insight into the research and projects.
A welcome address and invited speakers discussing the potential of offshore renewable energy and perspectives on the next decade post COP26
A policy session focussing on the contribution of offshore renewable energy policy to net zero GHG 2050 and perspectives on COP26
A session on research and innovation priorities, and opportunities for collaboration between industry and academia
A session focussed on what has been effective so far for equality, diversity and inclusion (EDI) in offshore renewable energy academia and industry
An update from the EPSRC Marine Wave Energy projects
A session exploring the latest developments in international offshore renewable energy research
Feedback
Please help us to plan the next Annual Assembly and future events by taking part in our 5-minute feedback survey. Complete the survey here.
All the content from the Annual Assembly, including the pre-recorded videos and slide decks are now available on the Assembly resources webpage
Early Career Researcher Forum

Our Early Career Researcher (ECR) Forum took place on Tuesday 18 January and welcomed 60 ECRs to hear about projects funded through our ECR Research Awards. We also welcomed David Bould, Lead R&D Specialist from Ørsted, who presented on generating new collaborations between industry and academia. 22 members of our ECR network also shared posters and abstracts about their research through our online poster hall, allowing visitors to ask questions and make comments. You can view the book of abstracts and posters here
The Supergen ORE Hub would like to say a big thank you to all our speakers, panel members, session chairs, and attendees - without your commitment and engagement the Annual Assembly would not be possible. And a huge thank you to the University of Plymouth Events Team for all your help with managing the conference.