About the event

The Engineering and Physical Science Research Council (EPSRC) are running an engineering net zero week (both in person and online) to celebrate research being undertaken to achieve net zero ambitions.
The Engineering Net Zero week will be an opportunity to:
bring researchers, industry leaders and policy makers together to reflect on and raise awareness of the EPSRC investments made in this space
continue the conversations that took place at the United Nations Climate Change Conference (COP26)
highlight how activities link to the sustainable development goals
show a response to the outcomes of COP26 and how EPSRC-supported research and innovation can substantially contribute to net zero solutions.
The Supergen ORE Hub is pleased to be taking part in the in person exhibition in Glasgow on 21, 22, and 23 June, and hosting a virtual webinar on 22 June.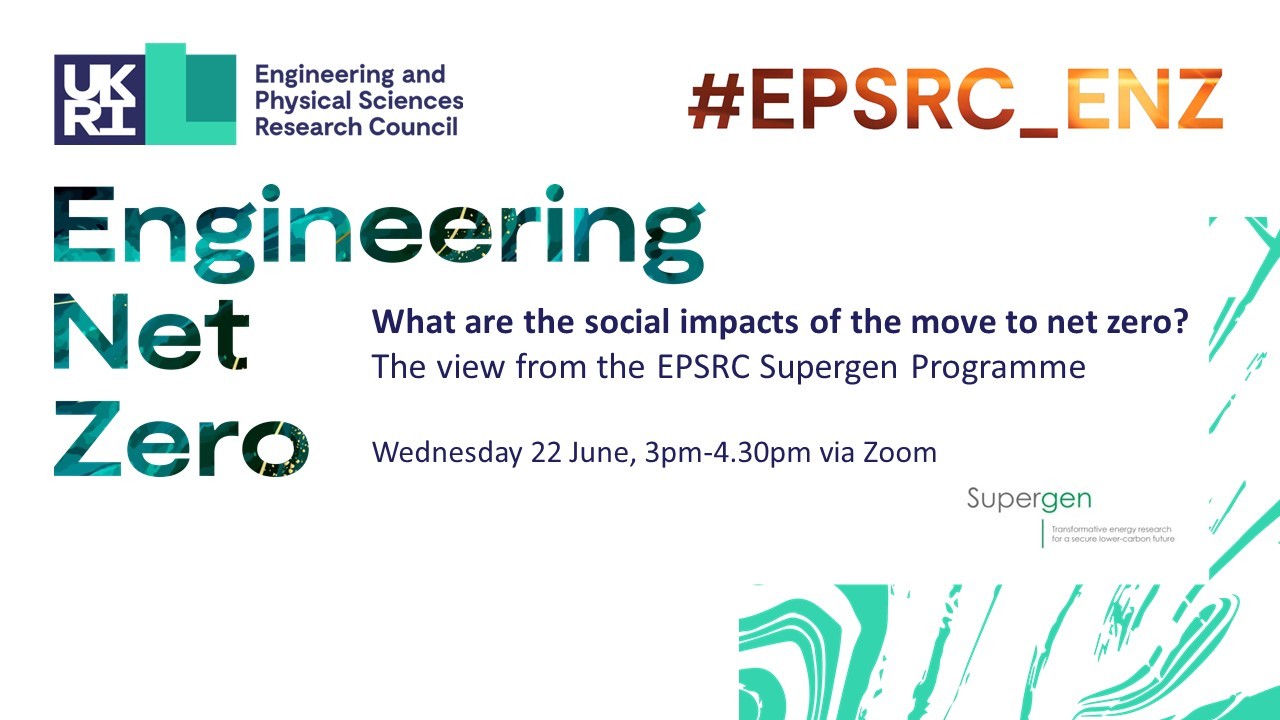 Online Event: 22 June 2022
What are the social impacts of the move to net zero? The view from the EPSRC Supergen Programme
The research networks of the EPSRC Supergen Programme will come together to host a webinar exploring the social aspects of the drive to net zero from the different hub perspectives (bioenergy, offshore renewables, energy networks, energy storage, solar and hydrogen).
We will go beyond the environmental impacts of net zero to look at the economic and social implications, discussing topics such as decentralised energy, rural communities, the impact of new industry and infrastructure, energy and fuel poverty, governance, jobs and just transition. Each Supergen hub will give a short presentation before we move on to a panel discussion and Q&A.
Presentations and panel
Panel chair: Helen Stockton, National Energy Action
Jenny Cooper, Supergen High Level Group, EPSRC Panel
Deborah Greaves, Supergen Offshore Renewable Energy Hub and University of Plymouth
Mirjam Roeder, Supergen Bioenergy Hub and Aston University
Furong Li, Supergen Energy Networks Hub and University of Bath
Philip Sandwell, Supergen SuperSolar and Imperial
Tim Mays, H2FC Supergen (Hydrogen and Fuel Cell Research Hub) and University of Bath
Xinfang Wang, Supergen Energy Storage Network and University of Birmingham
Registration
No registration is required. Please join the Zoom link here on 22 June 2022, 15:00 BST
Exhibition: 21, 22, 23 June 2022

21, 22, 23 June 2022, 09:00 - 17:00
Location: in person at the Advanced Research Centre, University of Glasgow, Glasgow, G12 8QQ
We'll be showcasing how we're tackling fundamental engineering research challenges in offshore renewable energy, providing research leadership and connecting academia, industry, policymakers and the public to inspire innovation and maximise societal value in offshore wind, wave and tidal energy.
Registration
Register to attend the exhibition in person via the UKRI website